Level Up is a live-action television series that, as of June 2012, is broadcast on the Cartoon Network. The film
with the same title, which served as a pilot for the series. The series premiered on Tuesday, January 24, 2012, at 8 p.m. ET/PT and as of June 2012, remains in the Tuesday time-slot.&nbsp
On March 28, 2012, Cartoon Network announced that Level Up was renewed for a second season.
After high schoolers, Wyatt, Lyle, Dante, and Angie unwittingly open a portal from a video game called Maldark: Conqueror of All Worlds into the real world, characters from the game and the Internet start leaking into the real world of the four teenage characters. The group consequently finds itself balancing the everyday lives of its members with the extraordinary things that show up in their town from the virtual world.
Videos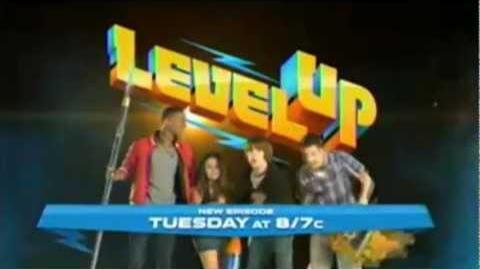 Ad blocker interference detected!
Wikia is a free-to-use site that makes money from advertising. We have a modified experience for viewers using ad blockers

Wikia is not accessible if you've made further modifications. Remove the custom ad blocker rule(s) and the page will load as expected.